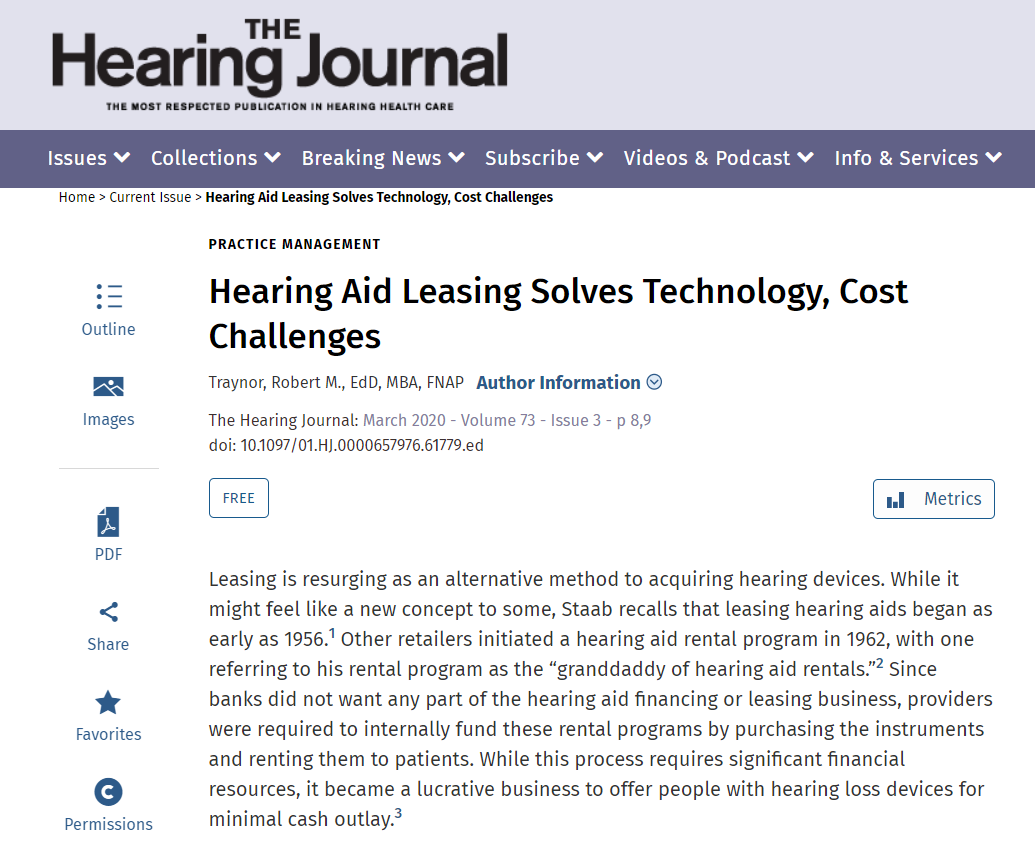 To bundle or unbundle – is that even the question?
Elevate yourself as a hearing healthcare professional by changing your interaction with patients from "selling hearing aids" to "providing long term better hearing."
If you're not offering hearing aid leasing yet in your practice, then you're missing out. The Pivot Hearing Leasing Program is designed to enable your patients to obtain great technology at an affordable monthly price, all while creating a powerful recurring revenue stream for your practice.
Consumers are changing – the patients in your office today are very accustomed to purchasing access to things rather than purchasing the thing itself (think Netflix instead of Blockbuster). In addition, certain patients are "leasing people" – once they learn of that option, they know how they're going to proceed and it just becomes a matter of deciding which exact hearing aid they want.
The benefits of leasing don't end with just the patient – leasing elevates you as a professional in a totally new way. Don't like "selling" hearing aids? Great – offer your professional expertise and care in 3-year horizons so that your patients can have the best hearing possible under your guidance and service.
Robert Traynor, EDD., MBA, FNAP and Practice Consultant for Pivot Hearing wrote an article about hearing aid leasing that was published in this month's issue of the Hearing Journal.
The Pivot Hearing Leasing Program is designed for both patients and practice owners.
Patient Benefits:
●       Access to latest technology every 3 years
●       Conservation of cash with no upfront outlay, just predictable monthly payments of $100-175/month
●       3 years of repair, loss and damage, and complimentary cleaning, adjustment and follow up services
Practice Benefits:
●       Powerful recurring revenue stream
●       Patient retention
●       Ability to combat downward price pressure in the market (big box, retail chains, online sales, and OTCs) with affordable monthly payments and access to top technology and premier care
●       Practice differentiation
With the ability to customize the sale amount and apply a down payment or an insurance benefit, the Pivot Hearing Leasing Program is the best of its kind. Learn more about Pivot Hearing's Leasing Program here.
In an increasingly competitive marketplace, Pivot Hearing offers difference-making consulting and execution for private practices, based on the success we've had in our own practice, as well in as helping hundreds of practices across North America.