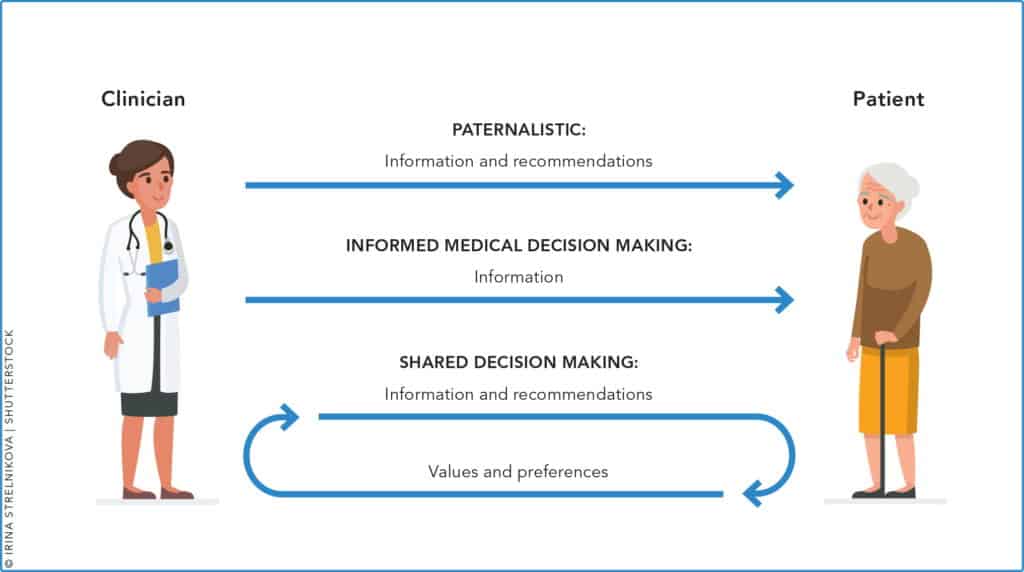 Shared Decision Making and The Hearing Aid Test Drive™
The principles of shared decision making are well documented in healthcare in general, but there is a lack of guidance about how to accomplish the approach specifically in hearing healthcare clinical practice.
What is shared decision making?  Shared decision making is a key component of patient-centered health care, as opposed to clinicians making decisions on behalf of patients.  It is the process by which clinicians and patients work together to make informed decisions. Together, they select a treatment plan based on clinical evidence that balances expected outcomes with patient preferences and values.
Why is shared decision making important? In many situations, there is no singular "right" plan for treating hearing loss. By utilizing The Hearing Aid Test Drive™, patients are able to be involved in their treatment discovery process with the guidance of a clinical expert – you.  When the patient has been part of the decision making process, they are often more likely to follow through with your treatment recommendations.*
It is generally acknowledged that the entry of the baby boomers into the ranks of older consumers of health care is likely to create major challenges for providers. Baby boomers are different from the generations that preceded them – they are more savvy, assertive, health-conscious, and engaged in their care.
Older patients of the present and future expect to live more active lives and seek to remain socially engaged, even as they manage chronic conditions like hearing loss. This generation of self-determining patients is likely to question established principles of care, demanding greater attention to their own definitions of hearing-related quality of life. That's why we developed The Hearing Aid Test Drive – it's a proven way to approach this new patient in a way that delivers high quality of care and improved business results.
Interested in learning this process that will drive higher revenue, increased ASP, and patient referrals? We can teach you as well as help you implement into your practice workflow and marketing.
As an added bonus,  we have over 60 5-star Yelp reviews, and we attribute that impressive stat to our use of The Hearing Aid Test Drive. Read what some of our patients say in our online reviews about it.
3/17/2018
Adam is a patient and highly skilled technician in this field, and with [The Hearing Aid Test Drive™], I was able to try several different brands for an extended period of time to determine the right one for my needs.  They even allowed me to demo two pairs at once so I could do side by side testing.  I highly recommend them if you're looking for high quality hearing aids fitted to your exact needs.
8/22/2017
I had a wonderful experience at Kenwood Hearing Center.  I felt that Chalon, the woman I worked with, gave me the time to find a perfect hearing aid for me and what I could afford.  We worked well together.  Kenwood never made me feel rushed and gave me all the time in the world to find a perfect fit for me.
8/30/2016
I did my research and went to many Sonoma County Hearing Centers to explore my first [hearing aid].  Adam at Kenwood Hearing was infinitely patient with me and allowed me to take them home and wear them in IN REAL LIFE – to see what I liked.  He let me test many varieties until I found one I liked.  I would refer Adam and this office to anyone who is experiencing any hearing loss.