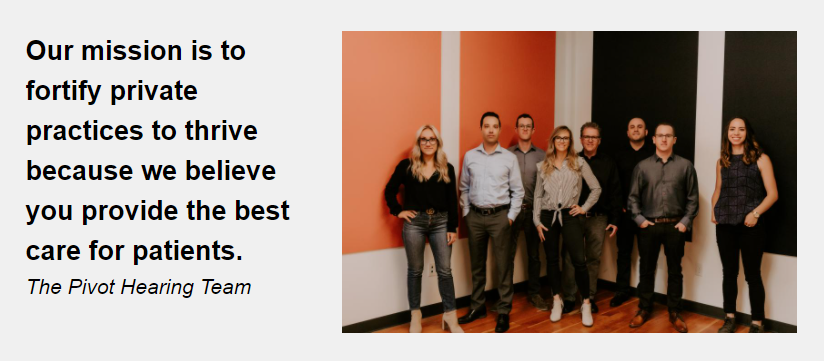 One year ago, we were all facing terrifying uncertainty. As the world shut down around us, we collectively feared for our health, our friends & family, and our businesses. We'll probably look back on March 2020 for the rest of our lives and say that it was truly a Pivotal Moment.
But the future has never looked brighter for private practice. If you're reading this, it means that both you and your business are healthy enough to have weathered the worst of the pandemic. You've made it out the other side – alive and ready to prosper. We knew as the shutdowns unfolded that some businesses wouldn't make it, and that would be to the benefit of those well-run practices who did.
The tide is beginning to turn, and hopefully you can feel it in your own practice and your community at large. The availability and efficacy of the vaccine, pent-up demand, sky-high capital markets, and an onslaught of new product launches from the hearing aid manufacturers are creating a perfect storm of opportunity for practices who are poised to capitalize.
COVID-19 also forced many of us to "pivot" and, in doing so, we've created healthier and more resilient practices than we even had before. In addition to incorporating things like remote care and curbside service into our offerings, we've also further differentiated ourselves from big box stores and medical/hospital competitors since independent private practices like ours have been able to offer patients the safest way to care for their hearing during this time.
At Pivot Hearing and in our own practice, Kenwood Hearing Centers, we've also used this opportunity to reimagine the modern, post-COVID, best-in-class hearing care practice, incorporating the following:
A program designed to fight back against 3rd parties and keep more patients in-house so we can control the transaction, deliver better patient care, and make 2x as much as we would with 3rd party fitting fees
Zoom consumer seminars – a digital, COVID-friendly adaptation of our extremely successful lunch & learn program that's almost a decade in the making and proven to drive new patients into your practice for hearing aids
Innovative digital marketing efforts, including an online hearing screener and accompanying digital advertising campaign to send web traffic to it, as well as Facebook ads that reliably drive appointments
Enhanced Pivot Hearing Weekly Vitals, including looking at data against rolling pre-COVID benchmarks (since year-over-year data is not very insightful right now) and applying quick, smart decisions to execute on ideas that will drive growth for the practice overall
… and a lot more coming.
So, congratulations on surviving. If you're ready to make 2021 your best year yet, reach out to us to schedule a Zoom session so we can meet you and you can see what we can do for your practice in the post-COVID world.