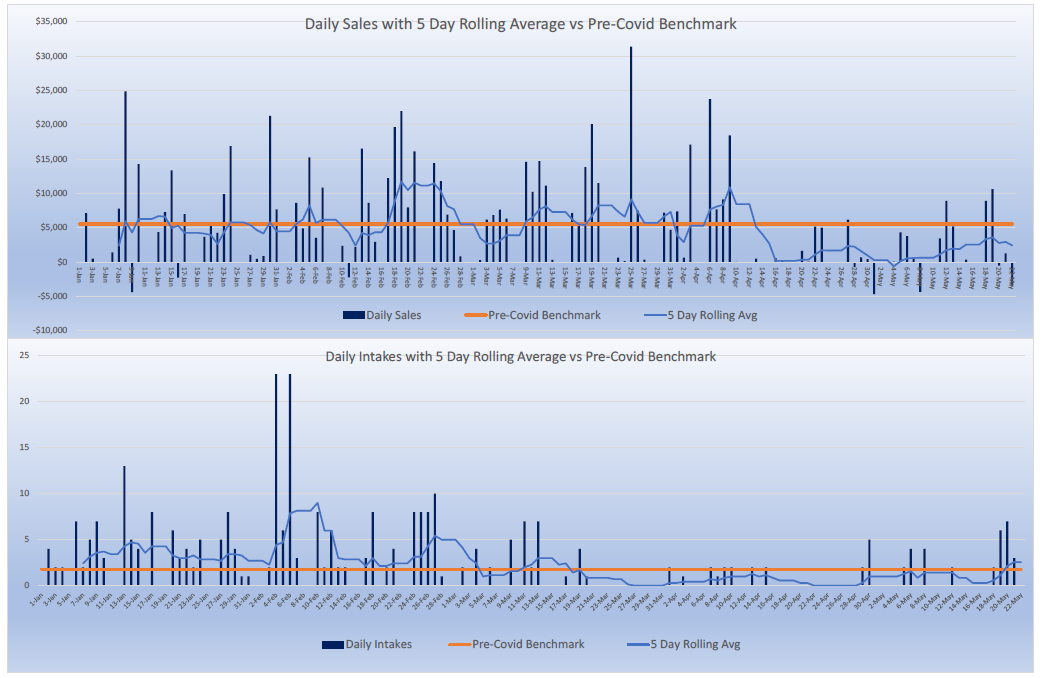 How to un-flatten your practice revenue curve
If you've consumed any news since the COVID-19 pandemic began, then you're familiar with the term "flatten the curve," meant to describe the programs designed to ensure hospitals weren't inundated with sick patients during the virus outbreak. In the vast majority of places around the world, communities have successfully done just that. As retail and services open back up, we are all finding that other curves have flattened as well.
So how do you get your practice revenue curve growing again?The first step to putting together a plan to come back stronger from COVID-19 is to get a good handle on your practice data to understand exactly where you are, where you need to go, and how you'll get there. Many of the Key Performance Indicators (KPIs) you've probably traditionally looked at no longer make any sense, such as year over year comparisons.
Back to the news – you've probably also seen more charts than you can count with various COVID-19 data, such as new cases, total cases, hospitalizations, fatality rates, and more. Some metrics are formulated using rolling averages, which is a way to look at data using a series of averages of smaller subsets. It's often used to smooth out short term fluctuations and help highlight true trends. In a time like this where external circumstances change daily, such as federal, state and local regulations, consumer confidence, and the trajectory of the virus itself, it's important to have a way to see what's actually happening with your practice overall despite large swings in data that can occur on a daily basis.
Comparing a rolling average to a pre-COVID benchmark then enables you to see quite easily how much ground you have to make up to recover. And once you know how much you need to accomplish, you can put together a plan that will get you there.
Do you wish you had someone pulling, manipulating, and analyzing your practice data and then partnering with you to make informed decisions about how to come back even stronger? Pivot Hearing is here to help.